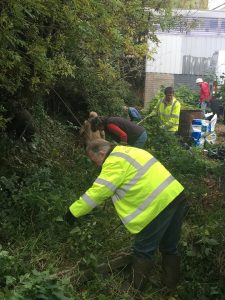 Chesham Environmental Group spent 2 ½ hours clearing out the stretch of the Vale Brook that runs next to Topps Tiles on Townsend Road. We took an incredible amount of junk and green waste off the site, cleared out the river bed and made an incredible difference to the site! A huge thank you to Topps Tiles for letting us take over one of the parking spaces outside their store to pile up all the rubbish.
Another huge thank you to Wickes who donated 3 massive jumbo bags for us to move all the green waste. And the biggest thank you to the trusty band of volunteers that turned up and made such a huge difference. The CDC waste team will collect and dispose of all the junk, so all we need now is some rainfall to get the River flowing.
There'll be more opportunities to make Chesham a better place to live – feel free to come and join us! See our events page for more information.