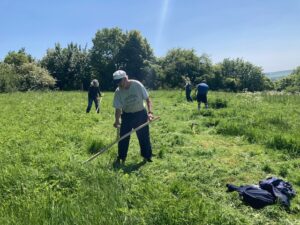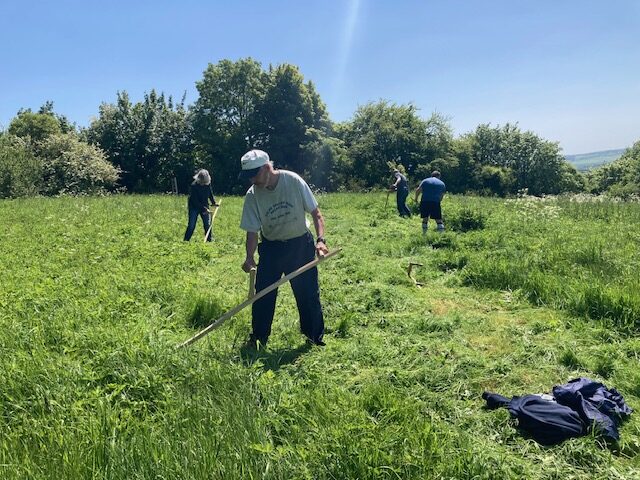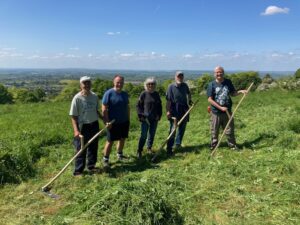 Our Chesham Environmental Group now has another 5 qualified 'Scythers' in the shape of Colette Littley, Byron Harding, Alastair Holland, Michael Simpson-Jones and Trevor Brawn following the completion of a training course which was organised by Gavin Johnson at the Chiltern Society, and funded by Steph Horn from the River Chess Smarter Water Catchment Team.
The training took place on Friday 26 May at the Brush Hill Nature Reserve near Monks Risborough and the morning was spent on the key aspects of the different types of scythes, general uses, safe working, setting up, looking after and sharpening the scythes. There was a lot to learn as we received expert guidance from Nicole Clough, who very effectively and enthusiastically covered everything we needed to know, before we had a break for lunch.
We started scything in earnest after our lunch and it was not long before we all began to get the hang of it, and were pleasantly surprised by how well we were all doing. Unfortunately, after about 90 minutes, our time on the reserve had run out, all too soon, so we headed back to the car park to discuss the merits of the day and so that Nicola could show us how to dismantle the scythes and clean them before loading them up for the return journey to Chesham.
We will now be looking for opportunities to use our new found skills to help with the micro-management of areas to increase biodiversity
Thank you to all those that made it possible and who contributed to the success of the day
Trevor Brawn